Love Streaming? Google Chromecast Streaming Media Player May Be For You!!
When it comes to watching TV I can say that I stream about 90% of the time anymore and wonder why I am still paying for cable. I am sure a lot of you feel the same way these days since this is becoming a very popular service. The main reason, at least for me, you have everything at your fingertips…new movies, seasons of your favorite shows, and plenty of apps to choose from. While I can say I have a few different streaming devices, I love my television with built-in Chromcast, it makes watching whatever I want so easily. The only downside, I am limited to that television which is in the bedroom, and I, of course, cannot move the television back and forth between rooms.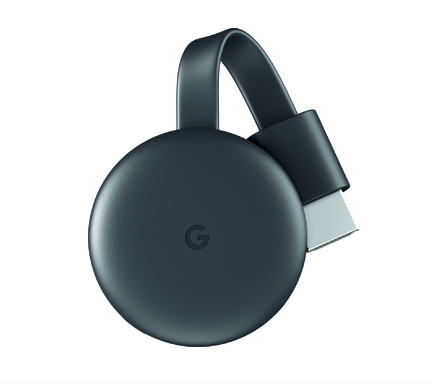 I was just made aware of the Google Chromecast Streaming Media Player which I am excited to check out for my household personally…..the best part….you just need to plug it into ANY television that has an HDMI port and you can get tons of streaming options!! Hello every room for me!!
So what are all the befits of the Google Chromecast Streaming Media Player?? Read more below…
Watch movies, shows, live TV, YouTube, and photos streaming on your TV from all your family's devices.¹
Stream from your phone to TV
Plug Chromecast into the HDMI port on your TV and to power and stream your favorite entertainment right from your phone with just a tap. Watch shows, listen to playlists, and more. And while streaming, you can still use your phone as you normally do.
Works with the streaming apps you know and love
Enjoy TV shows, movies, videos, songs, games, sports and more from over 2000 apps like Netflix, YouTube, YouTube TV, and HBO NOW.
Start streaming with just your voice
Just say what you want to watch from compatible apps and control your TV hands-free, with Chromecast and Google Home working seamlessly together.²
"Ok Google, play Stranger Things from Netflix on my living room TV." ¹
Upgrade your TV for less
Expand your home entertainment without buying a new TV. It's so affordable you can get one for every TV in the house.
High-speed wireless connectivity
Built-in 802.11ac Wi-Fi connects to the Internet through your wireless home network (wireless router required and sold separately).
Compatible with your existing HDTV
Easily connects to high-definition televisions with HDMI connectivity.
¹ Subscriptions are required to view some content.
² Google Home, Chromecast, and compatible content required to cast to a TV using
Google Home
.
Web-based services and content require high-speed Internet service. Some services may require a subscription.