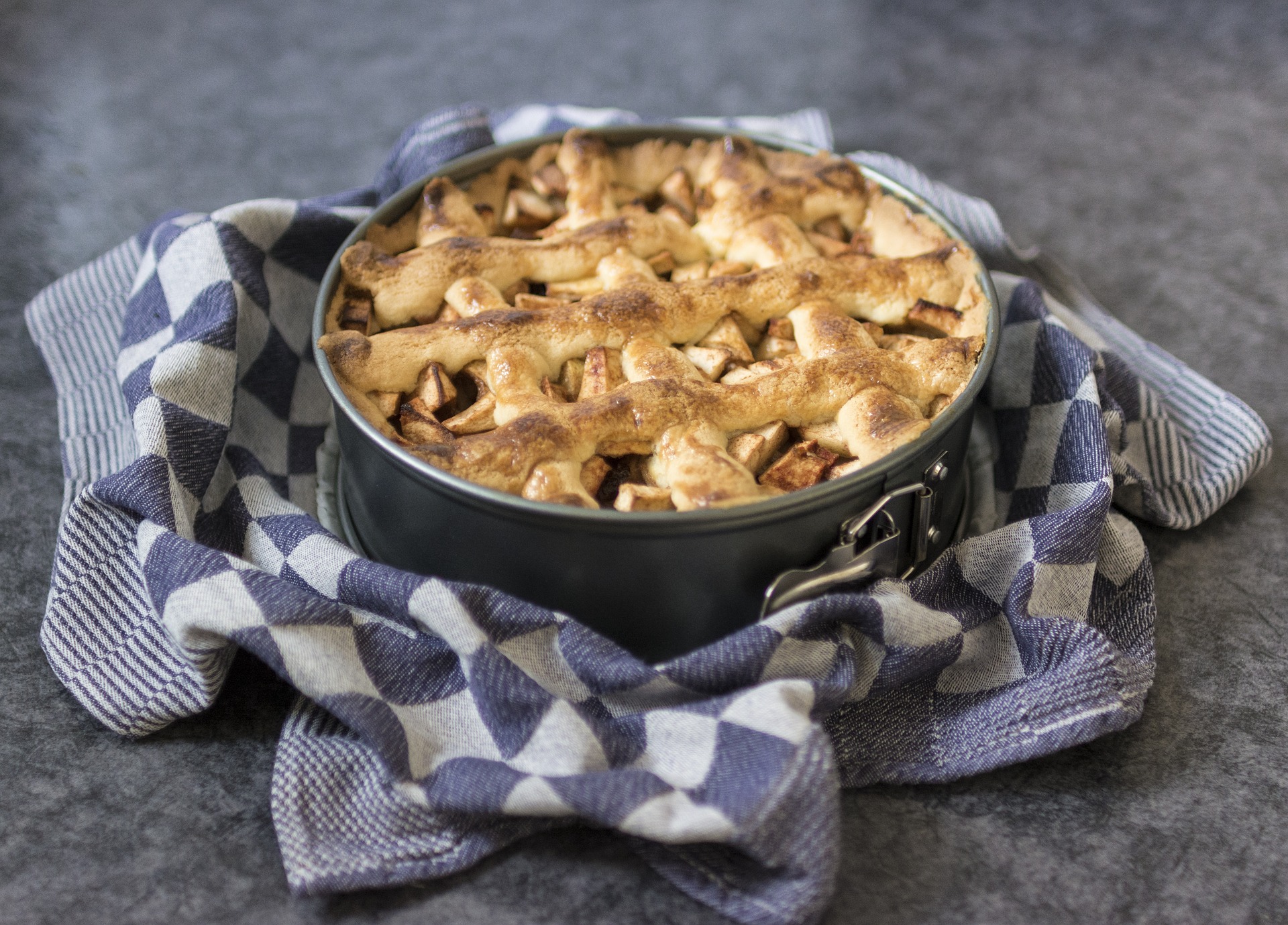 10 Tasty Thanksgiving Recipes Your Family Will Enjoy!
Pumpkin Pecan Muffins
Ingredients:
2 cups flour
1 teaspoon baking soda
2 teaspoons baking powder
1 teaspoon cinnamon
2/3 cup brown sugar
1 teaspoon vanilla extract
1 cup pumpkin puree
2 eggs (beaten)
1/2 cup chopped pecans
Directions:
In a large bowl, combine flour, baking soda, baking powder, brown sugar, cinnamon and salt.  Mix well.  In a separate bowl, combine pumpkin puree, eggs and vanilla.  Add pumpkin mixture to flour mixture until just combined.  Do not over mix.  Fold in chopped pecans. Spoon batter into lightly greased or lined muffin tin and fill to 2/3 full.  Bake in preheated oven at 350F for approximately 20 minutes or until golden and baked through.  Cool in muffin tins for 5 minutes until removing to wire racks to cool completely.
Fancy Lattice Apple Pie
Ingredients:
8 cups peeled and sliced granny smith apples (or other tart apples)
2 tablespoons all purpose flour
1 cup sugar
1 teaspoon cinnamon
½ teaspoon nutmeg
Dash of salt
2 teaspoons fresh lemon juice
2 tablespoons butter
1 egg yolk
1 tablespoon water
Preheat oven to 375F.
In a large bowl combine apple slices, sugar, flour, cinnamon, nutmeg, salt, and lemon juice. Place mixture into pie crust. On a lightly floured surface roll remaining pastry dough and cut into strips. Place strips on top of apple pie making a crisscross pattern. Mix the egg yolk and water in a small bowl and lightly brush the top of the pie. Bake for approximately 45 minutes.
Serve warm topped with custard or whipped cream.
Easy Pumpkin Pie
Ingredients:
2 cups pureed pumpkin
2 eggs (beaten)
1/2 teaspoon salt
1 1/4 cups brown sugar
1 (12 ounce) can evaporated milk
1 teaspoon cinnamon
1 teaspoon nutmeg
½ teaspoon cinnamon
1/4 cup butter (melted)
1 pie crust
Directions:
In a large bowl, combine all ingredients and mix well.  Pour batter into pie crust.  Bake in preheated oven at 350F for approximately 60 minutes or until set through.
Topping:
1 pkg cream cheese
1 cup whipped cream
½ cup powdered sugar
Blend all ingredients together and use to top pie.
Creamy Thanksgiving Mashed Potatoes
This mashed potato recipe certainly isn't low fat, but definitely delicious. In our house it's reserved for holidays only 🙂
Serves 6, double or triple quantities as necessary.
Ingredients:
6 medium potatoes, peeled and cut into chunks.
¼ cup cream
¼ cup real butter
¼ cup sour cream
¼ cup milk
3 peeled cloves of garlic (optional)
Chopped fresh chives of parsley (optional)
Salt and pepper to taste
Place potatoes in large saucepan and cover with water, add a little salt and peeled whole garlic cloves if using. Bring to a boil and cook over medium or high heat for approximately 15 to 20 minutes or until tender. Drain, discard garlic and return to pan.
Add the milk and beat potatoes with electric mixer until creamy. Gradually add a little of each of the ingredients and keep mixing. Depending on your preference you may want to add a little extra or less sour cream. Season with salt and pepper to taste. Finally add the chopped chives or parsley if using and stir well. Serve immediately.
Note: For roasted garlic potatoes use the same recipe as above but do not add garlic cloves to potatoes while boiling. Instead crush the garlic cloves and sauté for about 1 minute over very low heat in a little olive oil. Add mixture to potatoes once cooked and mix with all other ingredients.
Cranberry Pumpkin Bread
Ingredients:
2 1/4 cups flour
2 teaspoons baking powder
1 tablespoon pumpkin pie spice
1/2 teaspoon salt
2 eggs (beaten)
1 cups brown sugar
1 (15 ounce) can pumpkin puree
1/2 cup vegetable oil
1 cup fresh or dried cranberries
Directions:
In a large bowl combine flour, baking powder, sugar, pumpkin pie spice and salt.  Mix well.  In a separate bowl, combine pumpkin, eggs and oil.  Mix well.  Add pumpkin mixture to flour mixture and stir well.  Fold in the cranberries.  Transfer mixture to two lightly greased loaf pans.  Bake in a preheated oven at 350F for approximately 45 to 55 minutes or until golden and baked through. Cool for 5 minutes in pan before removing to wire rack to cool completely.
Cornbread Stuffing
Ingredients:
½ stick of butter
1 cup diced celery
2 cups diced onions
2 cups water
1 16 oz can of corn, drained
3 tablespoons chopped fresh parsley
½ teaspoon paprika
¼ teaspoon dried oregano
2 chicken flavored bouillons
6 cups crumbled cornbread
½ cup chopped pecans
Dash of black pepper
Preheat oven to 350F. Lightly grease a 2 ½ quart baking dish and set aside.
Melt the butter in large skillet over low heat. Add onion and celery and cook for approximately 5 minutes or until tender. Add water, corn, bouillon, paprika, oregano and pepper. Mix well and then add the cornbread and chopped pecans. Stir through the chopped parsley and spoon mixture into baking dish. Cover with foil and bake for approximately 30 minutes.
Classic Green Bean Casserole
Serves 6
4 cups cooked French style green beans
1 can (10 oz) cream of mushroom soup
½ cup milk
1 1/3 cups French fried onions
Directions:
Place the mushroom soup, milk and pepper in a 1 1/2-quart casserole dish. Stir in beans and 2/3 cup of the fried onions. Reserve the rest for later. Bake for about 20 to 25 minutes at 350F. Then top with the remaining 2/3 cup fried onions and bake about 5 more minutes, until onions are lightly browned.
Candied Yams
4 fresh yams
¼ cup butter
½ cup orange juice
Zest of one small orange (grated orange peel)
Orange slices (optional)
¼ cup brown sugar
½ bag miniature marshmallows
Directions:
Boil the yams with their peel on until tender. Let cool and remove peel. Cut each yam into about four to five pieces and arrange in large baking dish. Pour orange juice over yams and the orange zest. Sprinkle with brown sugar and dot with butter. Top with marshmallows and place orange slices on top if desired.
Bake for approximately 20 to 25 minutes at 350F until marshmallows melt.
All Butter Apple Pie Crust
There are times when a ready pie dish will do but Thanksgiving is special so why not try making your own pie crust… it's not as difficult as you may think.
Ingredients:
1 ½ cups sifted flour
½ cup chilled butter cut into cubes
½ teaspoon salt
3 tablespoons cold water
Makes 1 9-inch pie crust
Directions:
Combine flour and salt in a large bowl. Add the butter cubes and blend with a fork or your fingers until mixture is well blended. Gradually add the water, 1 tablespoon at a time, mixing the dough gently after each addition. Once dough is well blended shape into a large ball, wrap in cling film and place in refrigerator for approximately 20 to 30 minutes.
Remove the dough from fridge and placed onto a floured surface. Using a rolling pin roll dough to form a 10 to 11 inch circle. Line a 9 inch pie pan with dough and chill until ready to use. Reserve remaining dough to top pie crust.
Traditional Roast Turkey with Chestnut Stuffing & Homemade Gravy
For the Stuffing:
½ cup whole chestnuts or dried if you can't find whole
2 Tablespoons olive oil
1 onion, peeled and minced
2 celery ribs, chopped
2 cloves garlic, peeled and crushed
1 teaspoon dried sage
1 teaspoon dried rosemary
1 teaspoon dried thyme
1 cooking apple, peeled, cored and thinly sliced
1 egg, lightly beaten
5 cups stale bread, cubed
1 ¼ cups chicken broth
¼ cup butter, melted
Olive oil
Salt (sea salt is preferable)
Pepper
1 10 lb. turkey
For the Gravy:
2 carrots, roughly chopped
1 onion, diced
2 celery stalks, roughly chopped
Corn flour
Chicken stock
Butter (if necessary)
Directions:
The Night Before:
If possible, the previous night, or at least one hour before cooking, prepare your turkey. Remove any giblets and rise well (inside and out) with cold water, then pat dry with paper towels. Generously rub turkey with olive oil and sprinkle with salt and pepper. Cover and place back in refrigerator until time to cook.
The Next Morning:
Preparing the Stuffing:
To roast the chestnuts, cut an X on the flat side of each chestnut and bake 15 to 20 minutes at 375F oven. Let cool for 10 minutes and then peel and chop.
Do not turn oven off as it will need to be preheated for cooking the turkey.
In a large pot over low heat, heat the olive oil then add onions and celery. Saute for about 3 minutes or until soft. Stir in crushed garlic, sage, rosemary, thyme and apple and sauté for a further 3 to 5 minutes. Remove from heat and stir in egg, then add chestnuts and bread. Toss mixture well. Stir in warm broth and season with salt and pepper. Set aside to cool.
Preparing the Turkey:
Remove turkey from fridge and loosely stuff the neck cavity with chestnut stuffing, fold the skin under and secure in place with a toothpick. Then loosely stuff the main cavity, making sure to leave room for expansion and the air to flow through.
Then prepare your roasting pan. Use a large roasting pan and at the bottom add two roughly chopped carrots, onion and celery. Place the rack over the vegetables. Now place your turkey, breast side up, on the rack. Drizzle with melted butter.
Bake, uncovered, at 375F for the first 30 minutes, then baste and reduce oven temperature to 325F. Continue basting turkey every 25 to 30 minutes. The cooking time should be approximately 20 minutes per pound of turkey, which would be about 3.5 hours for a 10b turkey. To check if the turkey is cooked pierce the thigh bone, juices should run clear without any pink. Also use a meat thermometer on the thickest part of the thigh. The temperature should show 180F. Turkey should be golden and crispy on the outside too.
Remove the turkey from roasting tray and reserve juices for gravy.
Tip: For extra added safety, I like to remove the stuffing from turkey once turkey is cooked and bake on a separate dish for approximately 10 extra minutes.
For the Gravy:
Mash the vegetables in the roasting tray, then push all ingredients through a sieve. Discard any remaining vegetables or fat. Place the sieved liquid in a saucepan and simmer over low heat. If you don't have enough liquid then add 1 cup or more (depending on how much gravy you need) of chicken stock; You can also add a couple of tablespoons of butter.
In a small bowl add two tablespoons of corn flour and mix with cold water (about ½ cup) until all lumps dissolve. Slowly add a little of this mixture (tablespoon by tablespoon) to the saucepan, stirring well after each addition and allowing time for gravy to thicken. Keep adding corn flour/water mixture until gravy thickens.
Tip: You can also add a couple of tablespoons of red wine to the gravy or Madeira for a richer taste. The alcohol will dissolve during the cooking process and children will be able to have the gravy.