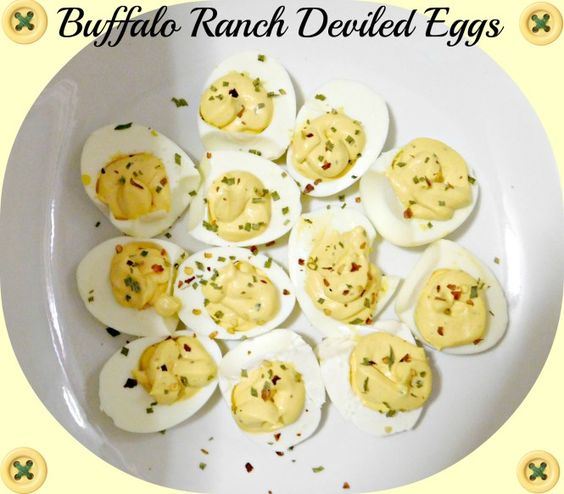 Buffalo Ranch Deviled Eggs Recipe!
Buffalo Ranch Deviled Eggs! These are a great finger food for a get-together, and a good amount of people love eggs! The main difference compared to regular deviled eggs, the buffalo of course! Add some spice to your meals, along with a Homestyle Ranch taste.
Ingredients:
6 hard boiled eggs
2 ounces of cream cheese
3 Tbsp Litehouse Homestyle Ranch Dressing
3 Tbsp of buffalo sauce (Any flavor you love!)
Crushed red pepper (small pinch per egg)
Chives (small pinch per egg)
Instructions:
After boiling the eggs, peel the shell off,  cut the egg in half vertically
Remove the yolk from the eggs and place them into a small electronic mixer
Next, add the cream cheese, buffalo sauce, and ranch into the mixer. Mix until well blended and creamy
(I can say at this point, it does not look the most appetizing, but in the end, you will be surprised!)
Place the filling into a small plastic Ziploc bag, cut the corner of the bag off, squeeze the filling into each of the eggs
On top of each egg, sprinkle crushed red pepper and chives, to your liking
For some reason the eggs I had purchased were odd shaped, so please ignore them
But was that not a simple meal? Of course alter the recipe to the amount of guests you will be having over at the time. In the end you have a creamy, ranch-y, slightly spiced deviled egg that tastes great and you can eat while mingling about other guests!
The post Buffalo Ranch Deviled Eggs Recipe! appeared first on Freesocial2011.